My name is Alex, I began tattoing in Paris, France in 1996 at "Buzz Tattoo Shop". It was a "Street Shop", no appointments, everyday a "Surprise Tattoo", you never know what you will do, the way to learn. In 2002, I leave Paris for south of France, opening a new shop. I do all styles of Tattoos, but I have a preference for black & grey Tattoos and lettering.

In 2006, I close my shop to come working in Nepal, Thamel with my friend Mohan. I'm here to do many Tattoos for Nepali people and tourists, enjoying this new fashion & lifestyle in Nepal. (January - August 2007)

I've been tattooing professionally since 2000. I worked in Italy till 2003. In 2003 I opened tattoo and piercing shop, 23 Tattoo Shop in Aranbol, Goa along with my girl friend (piercer) only during the winter season (Oct-Apr). I love to work in Asia because of the subjects people request. I like to mix together Hindu, Buddhist & Japanese art.

In the summer season I used to work as Guest Artist in several tattoo shops in America, Canada, England and Thailand. This Summer 2007 I've been tattooing as Guest Artist at Mohan's tattoo in Kathmandu, Nepal. (September - October 2007)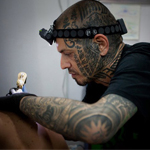 s?tattooing and travelling since 12 years Lyke to do piritual tattoo sacred geometrie ,mantra and psykadelik tattoo....boom to all the Mtl staff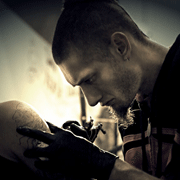 "Namaste, I'm Twist, I began tattooing in the south of France in 2000, where I worked in different shops. In 2010 I decided to travel to Nepal to discover and share tattoo art with the amazing MTI tattoo crew.
My roots are definitely in graffiti and new school style, my experience in Nepal has led me to incorporate oriental and Buddhist elements into my work.
I've been tattooing as a guest artist at MTI until 2012, I'm currently working in Europe but I will definitely be back to spend more time with my Nepal tattoo family. Boom boom!!"